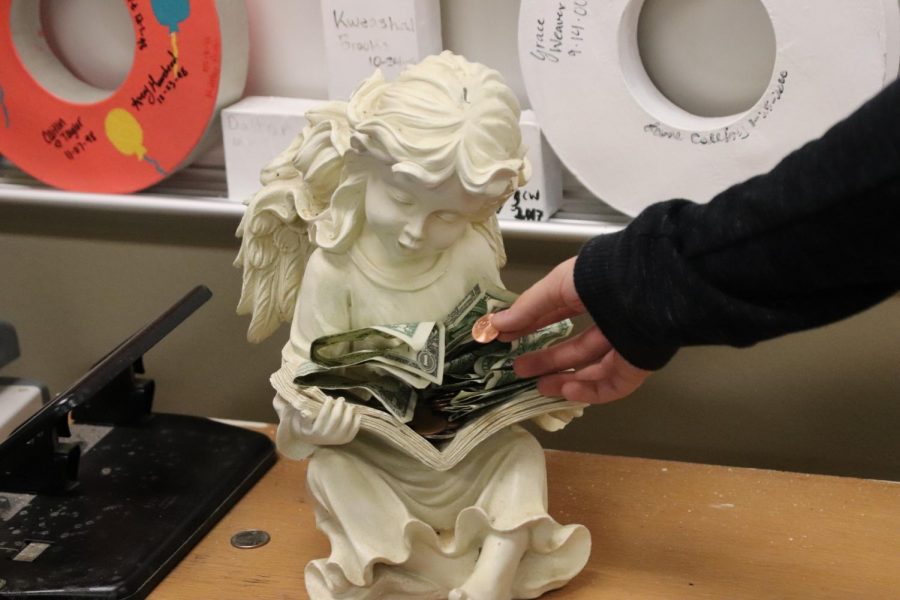 Eyes looking down, patiently sitting, book in her lap. Prayers, requests and hopes spilling out of the pages taking the form of pennies, nickels, dimes, dollar bills and more.
Those who are in Ms. Carol Campbell's classes have seen her angel look like this every day and might even add their own penny for success on a test.
  The origin of this tradition comes from a much older A&M tradition called "Prayers for Pennies." Sull Ross was once President of A&M and saved the school, leading it to almost double in student population, so a statue was made of him. Every time students need help or luck in an exam, quiz or test they would put a penny on the statue and pray over it; thus, Ms. Campbell started the same tradition with her angel.
"It's a reminder to pray about everything even grades and tests." Ms. Campbell said.
The A&M "Prayers for Pennies" tradition stemmed from ghost stories, theories and rumors. The angel stemmed from the A&M tradition and Ms. Campbell's "wants."
"I wanted to have something in the room that would allow students to overtly express their prayers over a quiz or test or anything," Ms. Campbell said.
While the Sul Ross statue was made 102 years ago, the angel was put in place ready to hold cash and prayers in 2008. The reason why this specific angel was bought is simple.
"I bought the angel because she has a book in her lap; she's reading," Ms. Campbell said.
Freshman Tiyana Pippens  said she thinks the angel has special powers.
"That angel is my best friend," Pippens said. "I manage to pass all my tests."
Senior Kodi Graham  said he thinks the angel works and that she's helped other people too.
"Whenever I have used it, I wasn't as stressed about a test or quiz," Graham said. "I think a lot of people have felt the same way I do."
While Pippens has only started  Ms. Campbell's this year, she has already used it "on every test" and will use it "throughout high school."
"It represents hope and reassurance," Pippens said.        
Graham said he can always tell when a big or hard exam is that day.
"I'd forget about her," Graham said. "Then I'd look up one day and see a mountain of cash in her book."