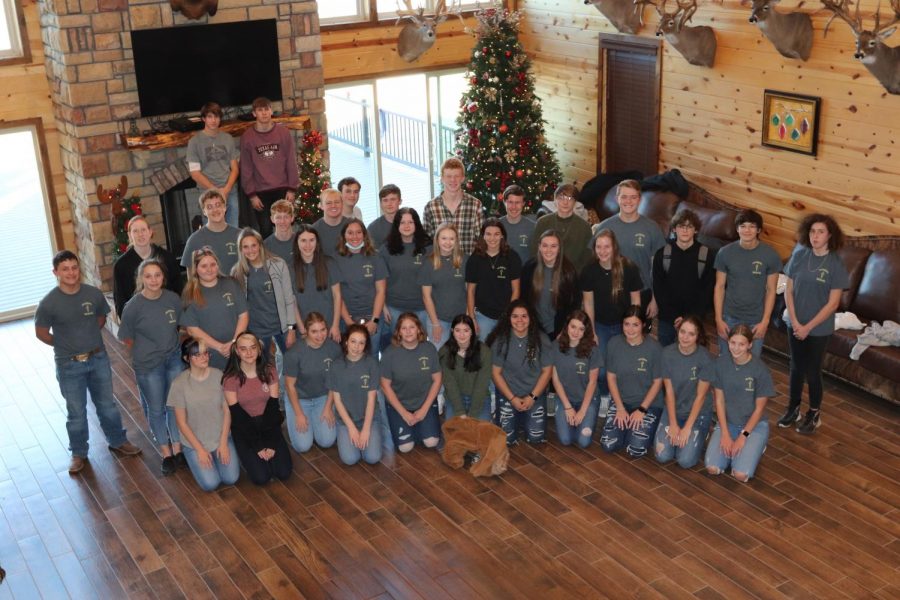 Carol Cox
The National Honor Society went to V-Tex Whitetails and Elk Ranch to listen to speaker Dee King.
"The day was filled with learning about modern day etiquette," NHS sponsor Bethann Oswald said. "It was a great experience for the members."
The day was not only focused on etiquette but was a retreat day for all NHS members.
"It was a wonderful experience," junior Robert Salyers said. "Being able to learn about etiquette throughout the day as will as more activities was truly fun."
Other activities also were planned for the day. "Being able to learn how to use my manners in public is something I didn't know I would enjoy," Salyers said.
Some of the activities included learning time management skills.
"Learning to better value my time and balance it throughout the day was something I valued on the trip," junior Ace Reid said.
Last year NHS took a trip to Frisco.
"It was a lot of fun last year because we got to go ice skating," Salyers said. "This trip was also fun even though it was smaller than last year."
Last month NHS had their annual chicken spaghetti luncheon where they raised $1,000.
"We sold out within the first 40 minuets or so," Oswald said. "It was a really good turnout we didn't know what to expect because of COVID-19."
Salyers said it felt good to be able to give back to his community.
"The day was an overall success I would say," Salyers said. "Being able to give back to the community that has done so much for me is an amazing feeling."
The silent auction was also held last moth where NHS raised $1,200.
"We won't have to do anymore fundraising all year because of how well the auctions and the luncheon went," Oswald said.
Some NHS members were working on their community service by participating in Teens Make a Difference on Nov. 21.
"The Teens Make a Difference organized work day is always meaningful," Elementary Principal Amy Huseman said. "As we were working this year, we were approached by several community members who thanked the students and staff members for making a difference in Archer City."
Coaches Krissa Johnson and Mallory Mooney, Debra Haehn, Oswald, Joe Roderick and Huseman were the leaders this year.
"We had fun because the students worked hard and got a lot of help done in a short amount of time, including tough work like clearing brush and limbs," Oswald said
There were 25 students who participated in TMAD this year.
"There were less people than we normally have because of COVID-19 and the short term notice of the date we'd be working," NHS officer Luke Haehn said.
They picked up trash at the cemetery, city park, baseball and softball fields, playground and Highway 25. They also cleaned the gym floors and stands, picked up playground mulch, cleaned out garden areas at the Methodist Church, picked up tree limbs out of yards and painted a fence for a local resident.
"I enjoy giving back to my community especially when people can't easily aid the community during this pandemic," NHS member Sara Schroeder said.