Star Wars: The Force Awakens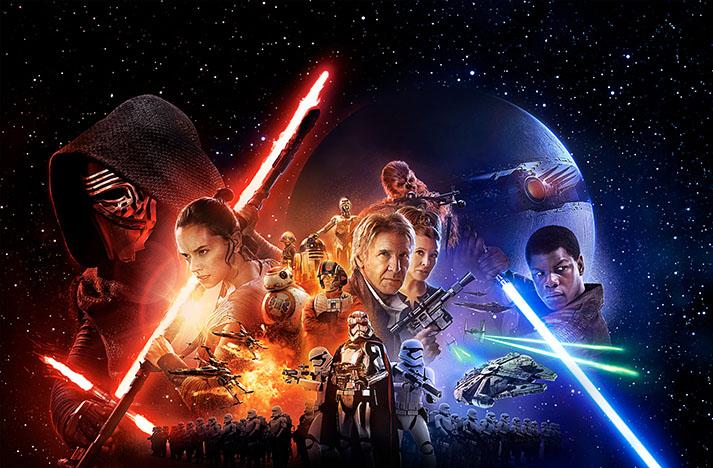 Under the command of a new director, "Star Wars: The Force Awakens" is the seventh movie in the "Star Wars" series and still keeps the feeling of the original trilogy with a minimal use of special effects. "The Force Awakens" takes place thirty years after the fall of the Darth Vader and the Empire, following the story of a scavenger and a rogue stormtrooper as they try to return a map revealing the location of one of the last of the Jedi, Luke Skywalker.
"The Force Awakens" is a fantasy/science fiction film, rated PG-13, and directed by J.J. Abrams. The main actors in the movie are Daisy Ridley, John Boyega, Harrison Ford, Adam Driver, Oscar Isaac, and Carrie Fisher.
The film begins with showing off the main antagonist, Kylo Ren, played by Adam Driver, as he searches for the map leading to the remaining Jedi Knight, who is portrayed by Mark Hamill. Happening on the same planet of Jakku, Rey, a scavenger played by Daisy Ridley, finds the droid carrying the map that the First Order, being led by Kylo Ren, is searching for. John Boyega, a stormtrooper who deserted the First Order, crashes on the planet and meets Rey as they escape the planet, learning about what the droid is carrying and meeting new allies and enemies along the way.
"Star Wars Episode VII" can be viewed without prior experience with the six other films, only requiring the other movies in the series to been seen for references throughout. The movie is more action oriented than romantic, with a few small romance scenes. "The Force Awakens" lives up to the Star Wars name, and is an excellent movie that is worth the viewing.