One act play closes for another year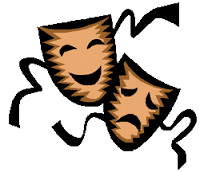 Hang on for a minute...we're trying to find some more stories you might like.
The directors and members of one act play have put up their set and costumes to be used another day after the district contest in Munday on March 1.
Even though the play didn't advance, members are still happy with the performance they gave.
"I felt very good about the performance by our students," director Becky Nogle said. "It was definitely one of our strongest performances."
Senior Jeremiah Cooke said he was proud of the advancing plays.
"I kind of saw it coming, actually," Cooke said. "The plays that advanced deserved it and I'm happy for them."
However, some students are upset over the outcome of the contest and how the year has come to an end.
"I was shocked," junior Grace Weaver said. "Not actually of the results but because next year I'll be a senior and it'll be my last time to participate."
"
This performance was probably their best and I wouldn't have changed a thing."
— Becky Nogle
The performance received critiques that were met with mixed reactions from the cast and directors.
"I was pretty happy with the critiques that we received," director Leslie Graham said. "All the critiques that we had gotten from festivals were always about the blocking and set design. So I was glad that what the judge liked was our blocking and the way the set looked."
Other cast members were unsatisfied with the critiques.
"I feel like we got more positive critiques than we did negative," senior Joseph Crouse said. "The compliments were nice, but I wish they would tell us what we're doing wrong so we can fix it."
Even though the play did not advance, Mrs. Nogle said that she was pretty happy with the performance and would not change a thing.
"The kids did well," Mrs. Nogle said. "When you've got that kind of quality, it comes to the details. This performance was probably their best and I wouldn't have changed a thing."
For some members of the cast and crew, this year was their last.
"I had a fun year and I liked who I spent it with," senior Jordyn McLemore said. "I'm sad because I'll miss my friends, but I will always have the memories I made."
Senior Dylan Guerrero said that he feels the year went by fast.
"I'm actually kind of sad because this last year went by so quickly," Guerrero said. "I'm going to miss the experience and all the people I experienced it with."

About the Writer
Emily Strenski, Editor-in-Chief
My name is Emily Strenski and I'm extremely excited to be the Cat's Claw's editor-in-chief my third year of being on staff. My hobbies include reading,...