"Only the Brave": Stunning and Suspenseful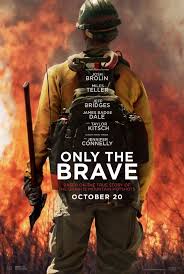 Hang on for a minute...we're trying to find some more stories you might like.
Directed by Joseph Kosinski, "Only the Brave" tells the riveting true story of the Granite Mountain Hotshots and how they started as a mop-up crew to becoming one of the most important hotshot teams in fire-fighting history.
Star Josh Brolin's acting is extremely good, and, alongside actors Jeff Bridges and Miles Teller, keeps the watchers interested and entertained.
Brolin, who plays the leader of the Hotshots Eric Marsh, does an amazing job at keeping the theme of the movie serious but warm, as well as suspenseful.
Meanwhile, Teller does a great job portraying Brendan McDonough, a druggie turned firefighter and family man.
As a firefighting movie, there's a lot of intense and drama-filled scenes, and the director and actors do a really good job of breaking it up with lots of hilarious little lines.
Even though there are a lot of fires that the team go on, there are also some really great family scenes as well.
Most of the characters have families, and the actors do a good job of portraying the frustration of trying to balance having a wife and kids as well as being a firefighter.
As a true story, making sure that the actors keep their characters true to real life can be hard, but I think the actors did an amazing job.
The story includes real-life pieces of dialouge that people would use-as well as keeping the acting true to real life-and the actors do it brilliantly. It made me feel like I wasn't watching a movie, but was actually sitting there and joking with them.
This story is told beautifully, and the visuals and graphics are stunning along with a soundtrack that ties the overall mood together.
I strongly recommend that students go to see this movie as it does a really beautiful job at showing the ups and downs of firefighting, as well as how hard balancing the job with their family can be.

About the Writer
Emily Strenski, Editor-in-Chief
My name is Emily Strenski and I'm extremely excited to be the Cat's Claw's editor-in-chief my third year of being on staff. My hobbies include reading,...