Robotics team advances to state competition
Firefighter robot places sixth at BEST contest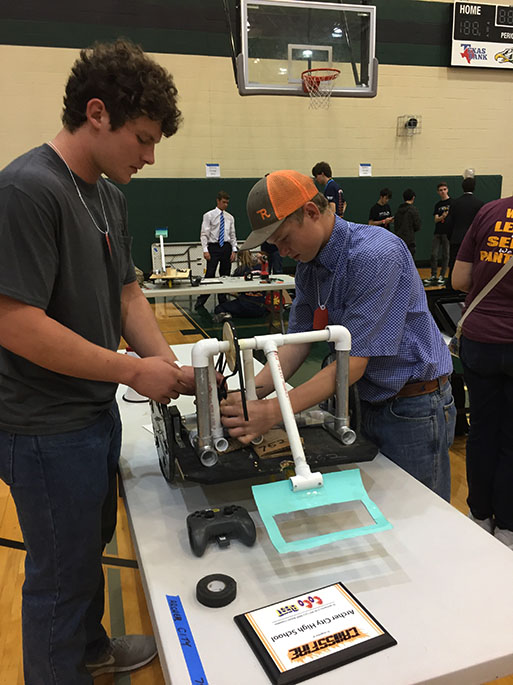 Placing sixth in the 2017 BEST robotics competition, Crossfire, on Oct. 21, the robotics team members have advanced to the UIL state competition.
Students were judged on their engineering notebook that provided the design of the robot and process, a marketing presentation, an 8'x8' exhibit showcasing the robot and team, the points scored by the robot in the game and the team spirit and sportsmanship shown.
"Competing in the event was exciting even though it was challenging," freshman Luke Haehn said. "We learned a lot from the BEST competition as well."
Out of the 52 teams at the event, both rookie and experienced teams, the robotics team won the Top Rookie Notebook.
"The engineering notebook was worth the most points out of everything else at the event," technology teacher Mika Morgan said. "I am glad we had students contributing to all aspects and thankful for contributions from Mr. [Bill] Crowley and Mr. [Clifton] Russell."
The team had to overcome difficulties with the robot, such as changing the configuration to meet the standard to compete, junior Clay McCasland said.
"The event was very overwhelming; it seemed like everyone else had way more preparation than we did," McCasland said. "A lot of the teams even brought their school bands to the game."
Members advancing that went to the Crossfire competition were McCasland, Coltin Knobloch, Kolbi Cox, Ross Ditto, Blake Dunkel and Haehn.
The state competition will be at the University of Texas at Dallas campus and the Dr. Pepper Arena in Frisco on Dec. 7 – 9.