New coach sets team goals
Wildcats' win against Quannah gets them closer to playoff run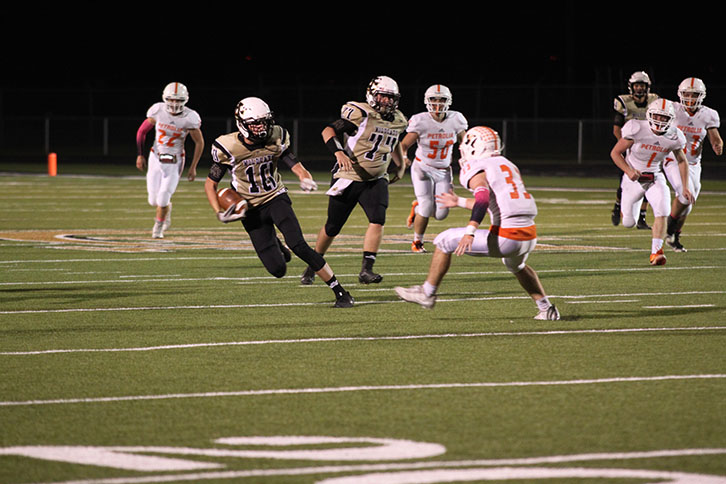 Katie Cooper, Reporter
November 2, 2017
After the varsity defeated Quanah on Friday with a score of 25-21, the Wildcat football team is still battling for a spot in the playoffs. The team has to win against Haskell tomorrow for a chance to compete in playoffs.
"The higher we place the better our chances are," head coach Shad Hanna said. "The boys are different from spring to now, they have a positive attitude and work very hard; they are hungry."
Coach Wes Johnson said the team members participation compared to last year is great and they are willing to learn new things to get better as a team.
"I think our biggest strength is the amount of leadership we have," Johnson said.
Senior Morgan Wylie said one of their weaknesses is how young they are, but they make up for it by playing together and playing hard.
"My goal and I think the overall team goal for district is to win," Wylie said. "Having new coaches and adjusting to them is something different but better."
"
We work together and play as a family."
— Senior Dalton Drennan
Senior Trey Strickland said the coaching staff is different from last year but the team is all bonding together and fighting for one cause.
"I think my personal weakness is dropping my head when there's a bad play but as a team, if we have a bad play, game or practice we can come to work the next time," Strickland said. "I think we all see each other as family. We all want to win out and bust our tails at everything we do. I want to leave a legacy."
Senior Dalton Drennan said the boys want to play as hard as they can and make their school and family proud.
"We work together and play as a family, Drennan said. " We have a lot more guys playing with more heart."
Coach Tim Pope said there's a new philosophy, different attitude and a more positive group of seniors.
"People have bought into what we are doing,"  Coach Pope said. "Different guys are stepping up every week. My favorite is the leadership and coach ability. They are selfless."