Celebrity deaths cause of tears, grief for fans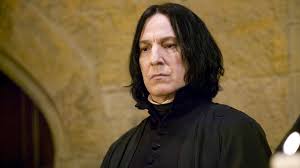 Sometimes, with all the fame and fortune that surrounds them, it's hard to believe that celebrities are people too.
And like normal people, they die. And when they do, they leave behind a legacy, and their deaths can affect thousands.
I was riding the bus one morning in January 2016, when I received a text from a friend saying that Alan Rickman had passed away.
At first, I thought there was no way that he could be dead. But one quick Google search was all it took to start the tears. It was kind of embarrasing, actually. I got a lot of weird looks.
Since age 7, I had grown up with Alan Rickman's portrayal of Severus Snape in the "Harry Potter" films.
His character wasn't always the best, and truth be told, at 9 I hated him. But as I grew older, I started to really like how Rickman played Snape. When I found out that the author of the books had told Rickman Snape's wholes story, it made me respect Rickamn and Snape even more.
When the final movie was making its debut, my mom and I went to the midnight showing. No spoilers, but the outcome of Snape's storyline shook the whole theater, and my 9-year-old self, to the core.
Hearing about Rickman's death made his character seem almost more real to me, and I re-watched every single "Harry Potter" movie over again, crying anytime Snape appeared on screen.
As a very sympathetic person, I empathized with Rickman's family, and it only made me even more sad.
Even to this day, seeing Snape, or any of his characters, on screen, makes me remember him and cry all over again.
This is the same with Carrie Fisher at the end of 2016.
When my dad introduced me to "Star Wars", Fisher's character, Leia Organa, became a quick favorite of mine.
When I heard that Fisher had died, I texted my dad immediately to tell him. "Star Wars" was his childhood, and he had grown up with her and others. It was hard to believe the actress was dead, especially since her character wasn't. We knew then that Leia's end was going to come soon as well.
What made it even sadder was when her mother, Debbie Reynolds, another famed actor, passed only a couple days after her daughter.
Seeing all of Fisher's co-stars, daughter and friends post their condolences and emotions all over social media made it even more real.
As 'normal' people, we often forget that actors are real people, as we identify with the characters they play. Sometimes we forget that when they die, they leave behind not only fans but also friends and family.