High School OAP to perform "Lafayette No. 1"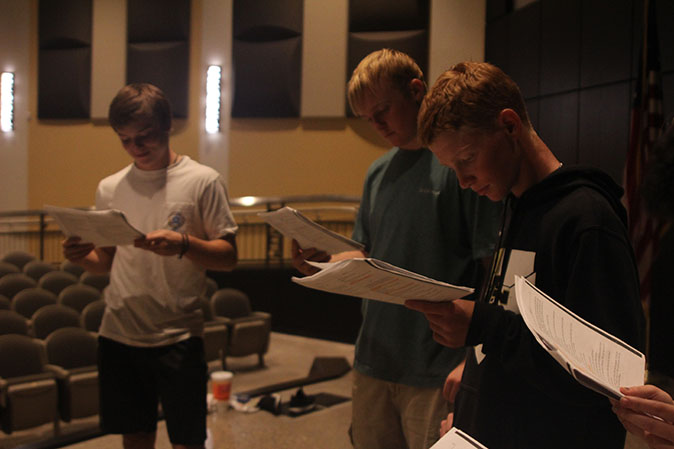 Justin Veiteheimer, News Editor
February 22, 2019
The high school one act play is performing the play "Lafayette No. 1," by Mandy Connor. The play is about the yellow fever out break and how it affected people who had no homes and were orphaned. The play will be performed on March 6 in Seymour.
The one act play has their set completed and have almost finished with their costumes.
"Our play is called Lafayette No. 1," said Graham. "It's about a group of orphans called the Forgotten who are trying to survive in New Orleands during the Yellow Fever epidemic. I like the characters, and the attachments and relations you can see between all of them. "
Freshman Breden Hulse said one act play has amazing people.
"I think that this year is going well," Hulse said. "We have improved and are still getting better.  I have had a lot of fun this year and I'm looking forward to next year."
One act play director Becky Nogle said that this year she has more freshman in the cast and crew then before but fewer seniors than last year where there were many.
"
Next year will probably be really stressful, as it'll be my last year in OAP."
— Kodi Graham
"One act play is in full swing and were making good progress," Mrs. Nogle said. "We're very excited about the play and we are enjoying rehearsals as the cast and crew contribute with great ideas."
Junior Kodi Graham said he believes that he loves how one act play brings people together.
"Next year will probably be really stressful, as it'll be my last year in OAP. I know that I'll give it my all and really try to progress what we're doing and attempt to get to State. I think it'll be a big struggle. I don't know the other school's plays, but I know everybody's giving their all and we're really gonna have to fight to progress."