PTO to sponsor donkey games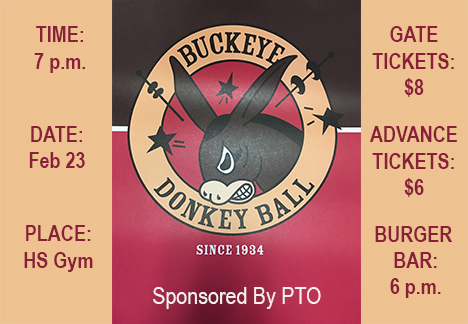 The Parent Teacher Organization is hosting donkey basketball games at 7 p.m. Feb. 23 in the high school gym.
Tickets are available in the elementary and high school offices for purchase.  The cost is $6 in advance and $8 at the door.  Age 4 and under are free.
"
There will be a burger bar.
— Megan Franke
Counselor Vicky Lopez is also helping create and pass out donation bags for students to get the teacher of their choice involved.
"The teachers have bags and the one who has the most money in their bag has to ride a donkey," Mrs. Lopez said. "It's a way to raise money."
Elementary secretary Megan Franke said people can also eat at the game.
"There will be a burger bar," Mrs. Franke said.
The hamburger bar will be set up in the cafeteria starting at 6 p.m. for $5 a person.  The meal will consist of a burger, chips and a drink.
Sixth grader Kaden Nogle said it would be hilarious for Mr. Brian Cooke to ride a donkey.
"I hope nobody gets hurt," Nogle said. "It would be funny though if someone falls off."
Mrs.  Lopez said there will be four teams: high school (no teachers), elementary staff, coaches and the "Cooks."
"Krissa Johnson, Mallory Mooney, LeeAnne Warren and Shad Hanna will be emcees for the game," Mrs. Lopez said. "Substitutes will include J'Lee Cantrell and Adam Getts."