FFA helps junior choose job in agricultural field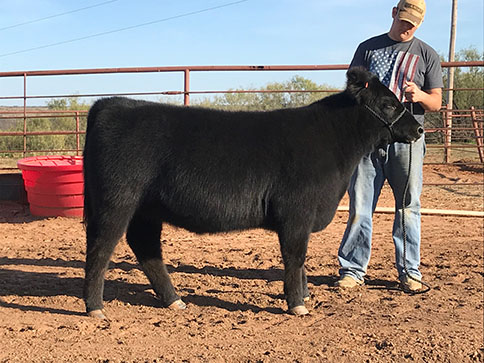 The Future Farmers of American Association teach and educate those with the want and curiosity to explore the world of agriculture and farming.
Some people that join FFA could be in the organization for a long time, such as junior Jack Herring.
"I have been involved in FFA all of my high school career so far," Jack said. "I joined a junior FFA group when I was in middle school  and junior high too."
FFA does not go without its opportunities as it allows students to take the knowledge with them in life.
"These opportunities give me a chance to share my trade with the people that might not understand what goes on at a ranch," Jack said.
Showing animals is also another option that the FFA member chooses to do.
"I have been showing in FFA ever since I was in seventh grade" Jack said. "I personally like to show heifers and steers. I've always shown cattle. It's kind of like my area of expertise."
For Jack, he said that FFA is good preparation for what life has to offer later on down the road past high school.
"There's no greater way to learn than through experience," Jack said. "By doing it everyday, I can understand it all better and appreciate it more."
Plans for the future following high school include expanding Jack's knowledge on what he's been doing all his life, either at home or in FFA.
"I feel that I will more than likely do something in agriculture when I graduate college," Jack said. "FFA is really just helping me prepare for that pre-hand."
Jack said that FFA really influenced his decision on a major in college.
"
There's no greater way to learn than through experience."
— junior Jack Herring
"I plan to go to college for mechanical engineering, or something related to that subject," Jack said. "I feel like I could come home and be able to work and fix things like tractors and such on the ranch. I feel like agricultural engineering is perfect for me."
Showing in FFA in places away from home and working on ranches have also helped Jack meet other people in his trade.
"I feel that FFA and just my lifestyle in general has really given me the opportunity to branch out," Jack said. "I've met many people who are all interested in the same craft I am, and in pursuing careers just like me."
Jack said that with being in FFA today, there are many obvious differences between him and the people who choose not to go down the same path he did.
"I'm definitely not what you'd call a 'city person,'" Jack said. "I don't like all the things that 'city people' like. I just feel like the way I've grown up has effected my interests differently from other people's interests. That's okay. I love what I do and I'm happy to be doing it."