Career fair to help students 'dream big'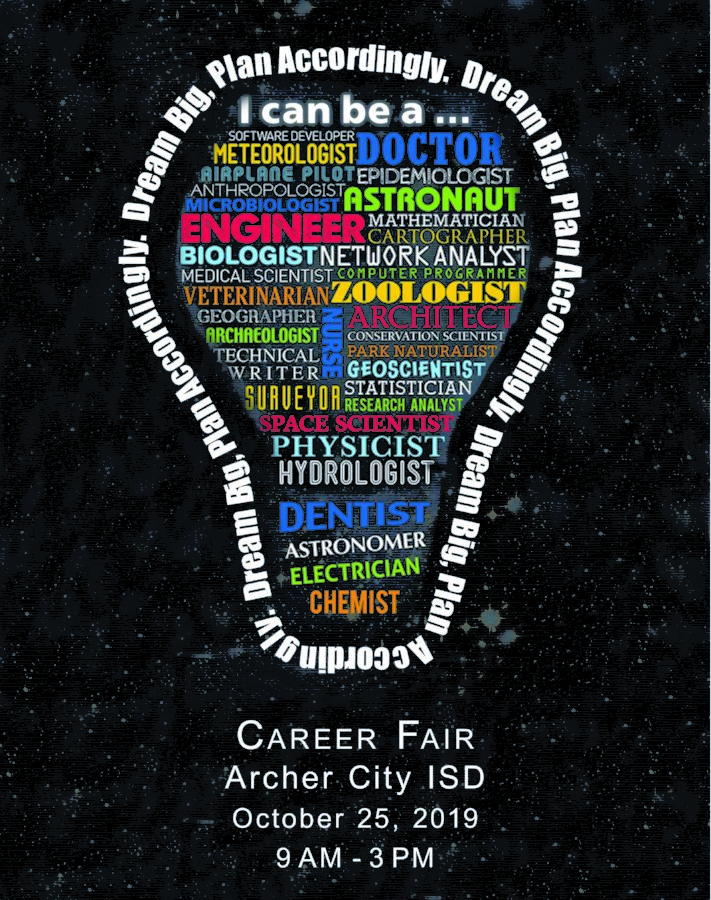 The Career Fair is going to be a school hosted event on Oct. 25 that is on a modified schedule so that students will have plenty of time to listen to the speakers of a specific career.
Technology director Bethann Oswald is the main coordinator for the career fair. She has been sending out emails to over 85 people in different professions to come visit with students.
"Our theme for this year's career fair is 'Dream Big, Plan According'," Ms. Oswald said. "The objective for this theme is to have students gain awareness of various careers, establish connections with industry professionals and explore educational and training requirements for career fields."
"
Most of my life i have been around planes and my father has taught me little bits on how to fly."
— Robert Salyers
For seventh grader Vivian Rater, she is already thinking about what her future will hold.
"I have always wanted to be a nurse or someone in the medical field," Rater said. "A medical career gets me on a great path, even later on in life."
Junior Justin Browning, on the other hand, is going to go through the academy and join the police force.
"Ever since my dad was in the Navy, I have always wanted to serve my community by being on a police department." Browning said. "Plus, you can make a lot of connections while you're on the job."
Wanting to get into the aerospace field is sophomore Robert Salyers.
"Most of my life I have been around planes and my father has taught me little bits on how to fly," Salyers said.
Getting a degree in mechanical engineering, senior Jack Herring said he is wanting to apply the knowledge he has now to what he will learn later on in life.
"I have always had a curiosity about figuring out how something works," Herring said. "It gets to the point where I take things completely apart and put them back together."
About the Writer
Jacob Wadley,
Howdy y'all! My name is Jacob Wadley but some people know me as Waddles. I have been on the newspaper staff for three years now and I hold the position...