Chadwick Boseman dies of colon cancer
Acclaimed actor Chadwick Boseman died at age 43 in his home in Los Angeles, with his family at his side, after a private four year battle with colon cancer on the night of Aug. 28.
Boseman was born on Nov. 29, 1976, in Anderson, South Carolina.
Boseman originally pursued the art of writing and directing but then started acting because he wanted to know how to relate to the working actor.
Boseman's breakout role was in the 2013 movie "42" as the famous baseball player Jackie Robinson.
After this ground-breaking role, he later became known for playing historic African-American icons like James Brown in the 2014 movie "Get On Up" and Thurgood Marshall in the 2017 movie "Marshall."
Chadwick Boseman started rising in popularity when he took the role of T'Challa/Black Panther in the hit 2016 Marvel movie "Captain America: Civil War."
That same year, Boseman was diagnosed with Stage 3 colon cancer, but that didn't stop him from giving his most memorable roles in the next four years.
Then in 2018, Boseman had the biggest role of his career as the title character of the global phenomenon "Black Panther," proving that any superhero can be a hit no matter what their race and becoming a household name.
In the next two years, he appeared in the hit movies "Avengers: Infinity War" and "Avengers: Endgame" with fans not knowing that these would be his last times on screen as the legendary Black Panther.
After hearing about his tragic death, many celebrity friends shared their love for him and his creative expression on social media.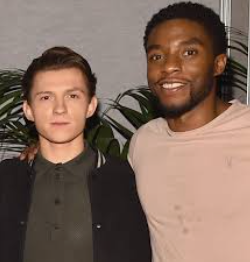 "Chadwick, you were even more of a hero off screen than on. A role model not only to me on set but to millions of others around the world," fellow Marvel actor Tom Holland said on Instagram. "You brought joy and happiness to so many and I'm proud to have been able to call you a friend. Rest in Peace, Chadwick."
Fans shouldn't take this news as another reason to call 2020 the worst year ever but should celebrate his life and his many fantastic roles.
"I think you realize how much you need to have people that you love," Boseman once said. "It's not as much about them loving you— it's about you needing to love people."