Band advances to area contest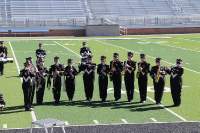 The Prowlin' Growlin' Wildcat Band earned a superior division one at region contest at the Wichita Falls Memorial Stadium and is advanced to area in Mineral Wells Oct. 30.
Head band director Kevin Elliston said he is very proud of the band and the potential for a one at area.
"I feel like [the band] performed their absolute best on [Oct. 16]," Elliston said. "When I saw the first opening set and after the drum break, I thought we were going to do incredibly well that day and am hoping we carry it on to the next contest."
Elliston advised the seniors to make their last year count, especially being able to compete with the bigger bands in Mineral Wells.
"I told the seniors during summer band if they want their best year, then they need to make it the underclassmen's best year," Elliston said. "As a band, we need to help those who are struggling and support each other."
Assistant director Anthony Flores said he was happy to earn a one as a first year band director.
"I am very happy for the seniors, and personally, I am proud of the program because my goal for this year was to help the band in any way possible," Flores said.
Flores said he is ready to have a "great" performance Saturday.
"When the band played the closer of the show, it gave me goosebumps to see all of the pride shown on the band members' faces," Flores said. "It makes me excited to see our band improve from the beginning of the season, and I am ready to improve even more."
Senior drum major Carolina Olivas-Hernandez said she is "happy" to leave a legacy behind for the underclassmen.
"I am really excited because I remember my first year marching in eighth grade and earning a one," Olivas-Hernandez said. "I am beyond happy to get that chance again."
Sophomore Chris Abrahamson said contest day made him nervous, especially the walk to the field.
"Being out in a bigger stadium almost gave me a heart attack, but the relief at the end of the show made it better," Abrahamson said. "My favorite part of the show was our percussion breaks because we got solos."
The PGWB scored a one, one and two by the three judges. Elliston said the band needs to keep music the primary goal.
"I feel our biggest strength is the sounds we can make as a group. When we really focus and perform well, we sound competitive," he said. "We really need to fine tune music and fundamental marching in our sets."
Senior Justin Veitenheimer said there are minor details like dynamics that need improving before the next contest."We need people to be more engaged and involved throughout all of our rehearsals," Veitenheimer said. "Making our second parts in the sections more confident will help us improve our show and get us toward that one at area."
"
I am very happy for the seniors, and personally, I am proud of the program because my goal for this year was to help the band in any way possible."
— Anthony Flores
Olivas-Hernandez said there are several highlights in the "Black Gold" show that make the performance stand out.
"One of the best parts of our show is 'Dry Hole Blues' because of the solos from Carina [Olivas-Hernandez], Brittany [Howard] and Tyler [Foster]," she said. "Their music makes our show different from the other bands at contest."
Veitenheimer said the visuals add to the show.
"I enjoy the visuals, especially the one in the 'Reprise and Finale,' where the outsides lunge out," he said. "We got to add in our own ideas, and I think it helps our band's performance."
Since 2012, the PGWB has not had the opportunity to advance to area finals. Senior Bailey Grant said it feels good to have all the hard work pay off.
"Getting the one at contest felt really good, and if we all put in the same efforts and focus on our weaknesses, we have the potential to make it pretty far," Grant said. "The hardest part of rehearsals now is working on details. Because I am a new percussionist, I still am struggling sometimes with tempo and what to do with my hands and feet."
She also advises the underclassmen to not worry so much over the small mistakes they make.
"The judges only have one opportunity to watch us, and they have never seen the show or the score before," Grant said. "A little love tap and a good luck from the seniors will help them at area."
The band was provided breakfast burritos the morning of contest day and pizza after results were announced. Freshman Luke Deerinwater said he enjoyed getting rewarded with.
"I was looking forward to doing really well with our band family and eating pizza after," Deerinwater said.