Track team prepares for district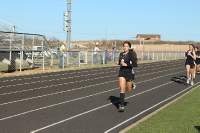 The district track meet will be held this Friday in Petrolia.
"I expect the track members that advanced out of district last year such as senior Mallory Maxwell in the 200-meter run, senior Maddie Lopez in shot put or sophomore Kassidy Marin in the 1600-meter run to do so again," Julie Castles, head track coach, said. "I also expect all of our distance runners and relay teams to do well."
Marin runs the 800 and 1600. Marin placed fourth in the 800 and third in the 1600 at last week's home meet.
"I've been going to as many practices as I can to get my time down in preparation for district," she said.
"
I hope we can run our best and come out on top,"
— Junior Jill Liles
Junior Jill Liles runs the 200 and is part of the 4×100 and 4×200 relay teams.
"We have been doing a bunch of sprint work and have been working on handoffs in preparation for the district meet," Liles said.
Castles said track members have competed well this season, but weather and students' busy spring schedules have caused issues and inconsistency in the relays teams.
"We've been trying to condition the girls as much as possible when they're here and ran multiple relay teams at the home meet to prepare for district," she said.
Marin said her expectations for district include advancing to area competition and getting a "good time." Marin's personal record for the 1600 is 6:22 and wants to run around a 2:30 800.
"I'll have to deal with my shin splints and overcome my own mental blocks," Marin said.
Liles said in spite of injuries and other mishaps, the season so far has been good. The 4×200 meter relay team placed second at last week's home meet.
"For district, I expect to have fun and just run fast," she said. "I hope we can run our best and come out on top."