Caution: baby on board
Students discuss changes that come with parenthood while staying in school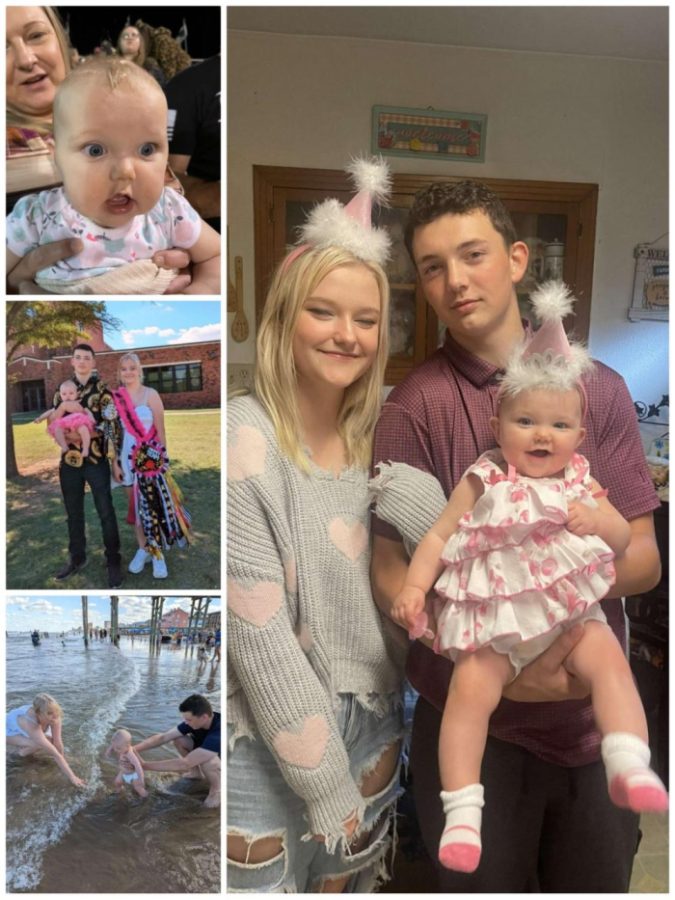 Most high school students go through the same routine every day after school. They either go to practice, work, or just enjoy their free time sleeping, gaming, or hanging out with friends like any other normal teenager would or should do.
However, seniors Kenny Hill and Jennifer Ellis devote their free time every morning and afternoon to a very demanding activity: raising their six-month-old daughter Melanie.
Melanie Hill was born on March 22 at 8:01 p.m. with a height of 21" and a weight of 5 lbs. 9 oz.
 Upon first having and meeting her daughter, Jennifer went through a variety of different emotions.    "Meeting Melanie for the very first time was mind-blowing and a little overwhelming to be honest," Jennifer said. "I was super happy, sad, and just over all tired."
Since then, both parents have had to adjust to Melanie's needs and Jennifer said it has greatly impacted her life.
"I am always rushing to get school work done, because I don't always have time for it outside of school," Jennifer said. "With Kenny and my mom working, my only free time would be when she sleeps; however, I usually sleep too while she does, because it takes a lot of energy to raise a baby."
Kenny said he gets zero free time having to hop from school to work to taking care of Melanie.
"On an average day, I go from school work in the morning to actual work in the afternoon to helping Jennifer with the baby at night," Kenny said. "Then the cycle continues the next day and the lack of sleep affects my performance in class, so that's just something we'll both just have to figure out together."
Kenny works full-time hours (40 hours a week) at the local Oodles Supermart, in an effort to take some weight off of the shoulders of Jennifer's mother, spends most of his paycheck paying for diapers, medical expenses and other baby necessities.
Whenever Kenny gets a day off, he likes to make time for either Jennifer and Melanie or for career prep.
"On my off-days, I like to do something special and take Jennifer out on a date with Melanie to have family fun time," Kenny said. "I also try to find time to prepare for my career as a Marine and start getting in shape for my basic training."
While Jennifer and Kenny go to school, Jennifer's mother Tasha Danos takes care of the baby at home.
"I feed her, bathe her, and take her to doctor's appointments," Danos said. "My favorite thing about being Melanie's grandma is that I get to spend so much time with her experiencing her first laugh, her first coo andmany  other firsts."
Jennifer's twin sister Madison Ellis also does whatever she can to lend a hand around the house.
"Usually, I help make and clean baby bottles, and when Jennifer's not home, I take care of Melanie sometimes to give my mom a break as well," Madison said. "It's scary being an aunt because a baby is like fine china and you will to go to any measure to make it stays safe."
Both parents agree that, at the end of the day, it is worth it to see their daughter develop and thrive.
"It has been really cool watching Melanie go from not being able to hold her head up to sitting up on her own and somewhat holding her bottle all by herself," Kenny said. "I am excited for her every time she learns to do something new and her personality continues to grow."
Throughout this whole experience, Jennifer has kept herself motivated thanks to the love from her promising, new family.
"What keeps me going through it all is the need to be a good mother and especially my love for Kenny and Melanie," Jennifer said. "Things like watching Kenny playing with and making Melanie laugh have become some of my favorite memories and small things like that everyday give me hope for our future together."