FCCLA have pie meeting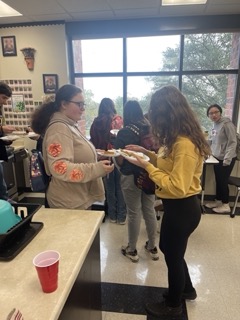 Family, Career and Community Leaders of America close-off the year with pie meeting.
"On Nov. 16, we had our traditional pie meeting during breakfast. Where all FCCLA members gathered together to have one last meal before Thanksgiving break," sponsor Donette Odom said. "I thought the meeting went as planed. I liked seeing how lots of students showed up to eat pie and that many enjoyed it. The meeting was a nice way to get the Thanksgiving mood started."
Odom said that they did two kinds of pie: pumpkin and pecan.
"I had students from my culinary class work on the pies for the meeting. We made the pumpkin pie two days before and the pecan pie the day before. It took all class period to do them," Odom said.
"
During the meeting there were kids who ate extra pies because they don't like any other kinds."
— sponsor Donette Odom
Sophomore Julissa Guerrero said she "loved the pies."
"I also enjoyed having the meeting since I got to gather with some of my friends that I don't have in my classes and talk about things," Guerrero said.
Freshman Tillee Bardwell said this was her first year to be part of the pie meeting.
"The pie was very good," Bardwell said, "especially the pumpkin pie. There was a lot of whip cream."
Bardwell said she liked the meeting.
"I loved how Mrs. Odom gave FCCLA members a meal before we went into break," Bardwell said. "I think it was a great way to finish the week."