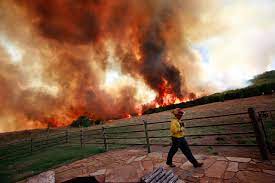 Throughout the United States people have faced natural disasters that have included fires, dust storms, hurricanes and more.
Lately in the areas near Archer City there have been fires.
"My nana's house caught fire," junior Malia Jones said.
Jones said that her nana's backyard and back end of her house caught fire.
"One of her propane tanks blew up," Jones said.
The weather in Texas has reaches temperatures up to 119 degrees. These temperatures have caused fires to start and "make it difficult to put out," Jones said.
"The fire could have been easy to put out,' Jones said "but the dryness and extreme heat made it very hard."
Fires continue to start and spread throughout Wichita Falls, Archer City, Bowie, Olney and other places.
"There have been multiple times when I'd be driving home and I'd see fires in Olney," junior Alyssa Schroeder said.
One fire in Olney kept restarting after being put out multiple times.
"I could see it from my house," senior Katelyn Casillas said.
"
"I could see it from my house."
— senior Katelyn Casillas
Casillas said that this fire was especially big.
"The fire was a little outside of Olney," Casillas said. "It was crazy because I saw it at night and then later the next day it had restarted."
Some highways were even closed down due to the smoke causing the road to be foggy.
"My sister and I were about to drive down Quail Ridge Road when we realized it was closed down due to the smoke," Schroeder said. "At first all I could see was the flames of the fire, but then I noticed the smoke spreading out throughout the road and land."
On Highway 82 there was a fire near the state hospital.
"I was driving to Wichita to eat with my dad when I realized a fire had started right next to the highway," junior Landon Smith said.
A house had caught on fire and spread all the way toward the highway.
"It honestly made me nervous to drive that close to a fire," Smith said, "but on my way back to Archer, they had the road closed down in order to keep people safe."
Jones said that fires are very dangerous and have taken place in many different states as well.
"I just hope we can get all of these fires under control and get our communities back to normal," she said.